Bookings open 5th of September, stay tuned
Powder Highway
Drive British Columbia's fabled powder highway, with an armada of RV's, on the powder-chasing road trip of a lifetime. Explore three legendary ski resorts (Revelstoke, Sun Peaks, SilverStar), hold epic campouts at every mountain, meet travelling adventurers from all over the world, and redefine the concept of #vanlife on a journey measured in mates and not miles.
Canada Highlights
This is what to expect from the week, along with a few extra surprises along the way
Music
Community
Activity
Show all
Booking options
"

Hands down one of the best weeks I've experienced. Amazing people, staff, and vibes. Can't wait for my next TSW.

Leah
"

One of the best trips of my life with adventure on the RV, amazing people, perfect skiing and sick parties. I only have fond memories and planning of the week was professional. I loved the perfect balance between serious skiing and fun partying

Kim G
"

RV Canada - don't miss it 🇨🇦. Good mix of adventure, special events and excellent skiing.

Erik B
Tickets from USD$1,500 include:

Access to events
As a guest you will have access to the events and parties we host.

Accommodation
Your own spacious RV, equipped with kitchen, living room and bathroom.

TSW Concierge
We know these mountains as well as our home towns. Whatever you're looking for, we'll help you find it.

Ski pass for 6 days
Included in the price are ski passes that gives you access to all the slopes.
Hotel
You also get one night at the Suttons Hotel, Revelstoke.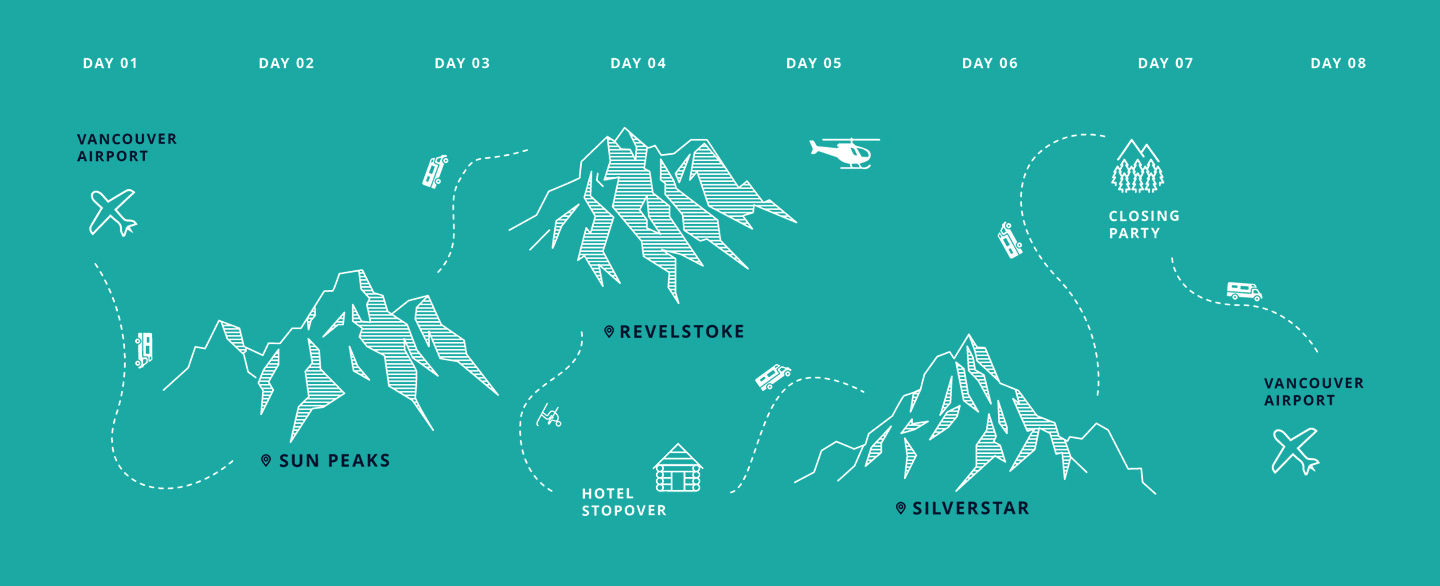 DAY 1

Vancouver - Sunpeaks

Welcome to Vancouver! Today's all about checking in and finding out what to expect for the week. Then it's straight behind the wheel to head to Sun Peaks. Base camp will feature fire pits, music and good vibes a'plenty.

Pick up your ski passes, get your morning coffee hit and then hit the slopes! Once you're all warmed up, try your luck in the Top 2 Bottoms race and meet us for a celebratory drink at your first apres.

DAY 3

Sun Peaks - Revelstoke

For the early risers, first tracks is a no brainer. In the afternoon, it's back on the road for Revelstoke. Soak up the stunning alpine panoramas and then, on arrival, park up in a circle and tuck in to some tasty team tacos.

Ski the best mountain range in North America and then get ready for a night of luxury at Sutton Place Hotel. Maybe even venture to the hot tub for a little R&R before heading to Revelation Lodge for a mountain banquet and an epic DJ set.

DAY 5

Revelstoke - Silverstar

Those that wish to can try their hand at heli-skiing today - tracking through hands-down some of the best powder on earth! After a slow and steady rise for everyone else, it'll be time to drive to Silverstar. Be prepared for some beautiful window views.

Lifts opening marks the start of endless morning runs through the mountains. Snowshoe hike to lunch in a cabin in the woods with 50 of your new friends. For the evening, apres our way at Red Antler with a live band setting the vibes.

Enjoy your last day on the slopes, feast your heart out at our BBQ lunch and then bring your A game to the grand hockey game on Silverstar's frozen lake. Then it's one last drive between you and the final family night full of celebrations.

DAY 8

Silverstar - Vancouver

Enjoy the 4 hour drive back to our drop off point in Vancouver and wave goodbye to your wheel-y cool ride. We hope she/he has served you well for the week.
Where you stay
Accommodation includes:
• Full kitchen
• Bathroom & Shower
• Ski storage
• Car driving licence required
<ahref="https://www.trustpilot.com/review/www.theskiweek.com" target="_blank">Trustpilot