TSW - What the Guests Say
By Leo Alsved
Posted on 12th January 2021
The Ski Week is for all levels and personalities. Whether you come as a crew, a one or a two, we know you'll have the best time in the mountains. TSW team are very proud of the events we host and we look forward year on year to sharing them with you. From Mountain Banquet's for 260 people, to flying our flags in the Parade of Nations, you have a host of additional activities to get involved with. There really is something for everyone, particularly those who want to try something new. Feeling bold, brave and bonkers? Then enter yourself into the Pond Skim competition. Never skied at night? No bother, let the light lead your way down the slope in our very own Torchlight Descent.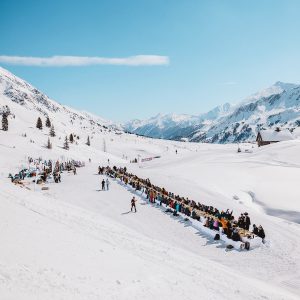 Oh and the Après? This is where you make your mark, in your own way; whether you want to just nurse a chilled one after a day on the piste, or whether you want to take your shredding from the slopes to the d-floor - we won't judge. Let loose, and wrap your day whatever way you fancy. Every experience is unique and The Ski Week is what YOU make it. You choose the pace, the feel and the vibe. Your week, your rules.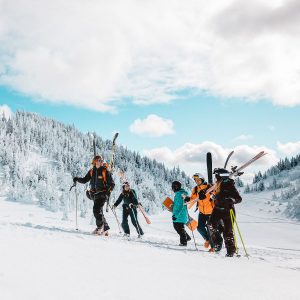 The reason we can do what we do is all because of you; our amazing guests. You create an atmosphere which is rare to find. The positivity radiates wherever you go - some even say it's addictive. Don't belive us? Why not hear it straight from the horse's mouth - have a scroll to see what some of our amazing guests have said about us.
"If you want great skiing, with great people. Go on The Ski Week"
-
Brendan Paton.
"
[The Ski Week is] a life-changing experience
" -
Dani Bia
On The Ski Week, we pride ourselves on being able to gather over 30 nationalities in one place.
Camila Sabara
said it became "
the best experience ever with some of my closest friends on the mountain
". We asked
Sabina
the best thing about making 250 new international friends, her answer "
ENDLESS sofa-bed stays all over the world!
". The girl has a point...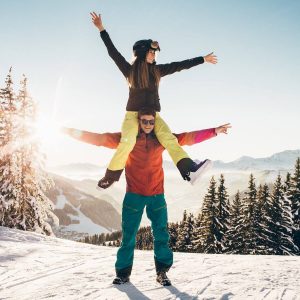 We can't thank you all enough for your kind words (you rock!). If thats still not enough to convince you to come for the best week of your life, how about these bad boys for the final nudge: "
The Ski Week definitely ranks as one of my top 3 vacations, if not the best so far! Such a great time spent with 200+ fun loving, free spirits from around the world! The Austrian Alps are beautiful and The Ski Week crew does such a good job of keeping everyone together and organized for the best memories you'll ever make with some of the best new friends you'll ever have."
-
TJ
"The Skiweek was an incredible experience! I met so many great people, experienced an amazing country, skied the sickest lines of my life and got to enjoy the best times with the best people! The hosts and ski week employees were all friendly and great to deal with. 11/10 would recommend!"
-
Hilary Parry
"One of the best weeks of my life! They have this trip well organized and there is always something epic planned. I went solo and left with 8 new best friends that will be doing another trip soon together."
-
Will Stowe
Can't wait to see you all in the 2020 season to shred, shimmy and send it. Together. Don't forget, bookings open on the 5th of September at 5PM. With love, TSW
Share this post