Delicious Vegan Recipes for Self-isolation
By Cara Whiteman
Posted on 7th January 2020
Find yourself getting easily bored now that you've exhausted all the great shows on Netflix and reorganised your wardrobe 4 times in the last week? We've got something just for you. Why not use all this time inside to learn a new skill? We asked the amazing
plant-based chef Marinola
to whip us up some hearty vegan winter recipes
so you can stay healthy AND learn how to cook some nourishing comfort food whilst isolating.
They're also perfect if you're looking for plant-based options to cook for you and your friends on
The Ski Week
next winter. Try not to drool as you scroll through these mouth-watering, stomach-warming vegan meals 😋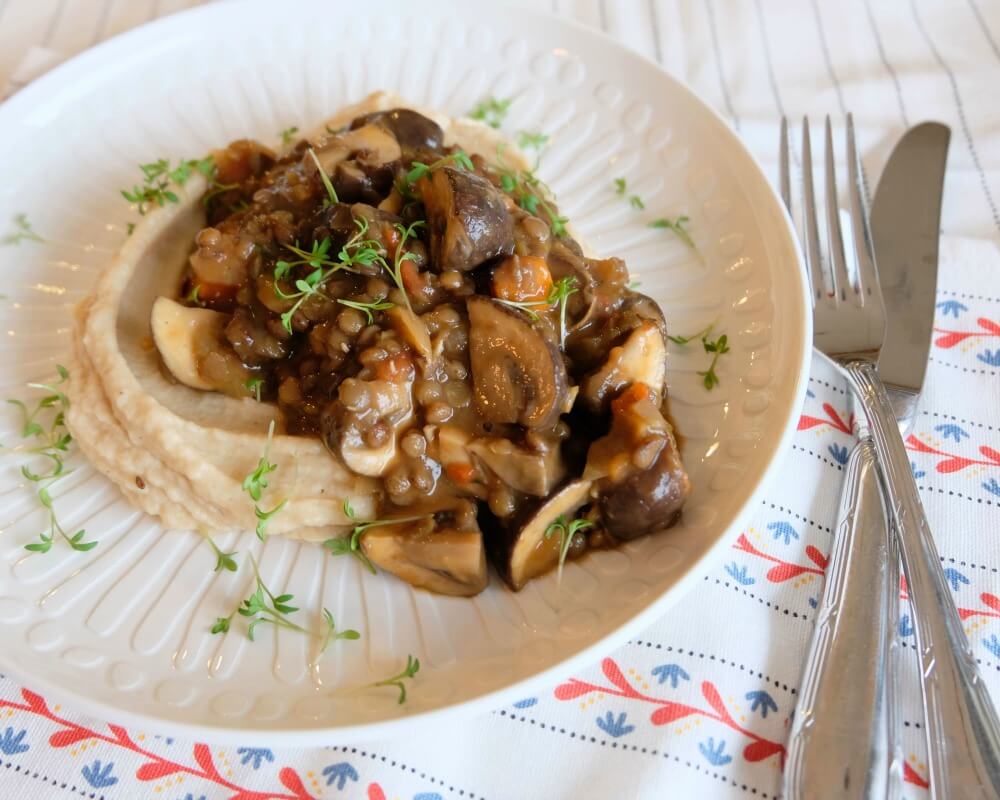 Mushroom and lentil ragout with roasted celeriac mash
On those days when you think you have nothing left in the fridge, you can whip up this wholesome and delicious meal in less than 30 minutes. I keep cooked lentils in my freezer for emergencies but canned lentils are also a great option. If you prefer to make the mash in the traditional way, it's also a good option but I have to confess that even in purée form, roasted veggies taste amazing!
Serves 3-4 people
What you'll need
Ragout:
400g cooked lentils (or 1 can)
250g button mushrooms
1 medium carrot, diced
1 onion, sliced
2 garlic cloves, mashed
1 tbsp thyme
1 tbsp Worcestershire sauce (or soy sauce)
½ cup chopped tinned tomatoes
1 cup plant milk
1 tbsp arrowroot or corn starch
1 tbsp olive oil
½ tsp salt
Mash:
1 celeriac, peeled and diced
1 tsp apple cider vinegar
1 tbsp olive oil
1 cup plant milk (I used almonds)
½ tsp salt
How to make it
Mash: Heat the oven at 180°C.
Place the celeriac cubes in a baking tray, drizzle some olive oil, salt and vinegar and roast it for about 20-30 minutes.
Ragout: Heat a medium pan with a drizzle of olive oil and fry the garlic and onion with a pinch of salt until juicy and soft.
Add mushrooms, carrots, thyme and Worcestershire sauce and cook it for about 5 minutes at medium heat.
Add the tomato and lentils and cook it for about 10 minutes at medium/high heat.
Mix the plant milk with the starch and add to pan. Bring it to a boil, adjust salt and pepper and simmer for 2 minutes and set aside.
Finish the mash: Blend the celeriac with the plant milk until a smooth purée.
Add the purée to a pan, adjust salt and pepper and bring it to a boil.
Serve the ragout over the celeriac mash.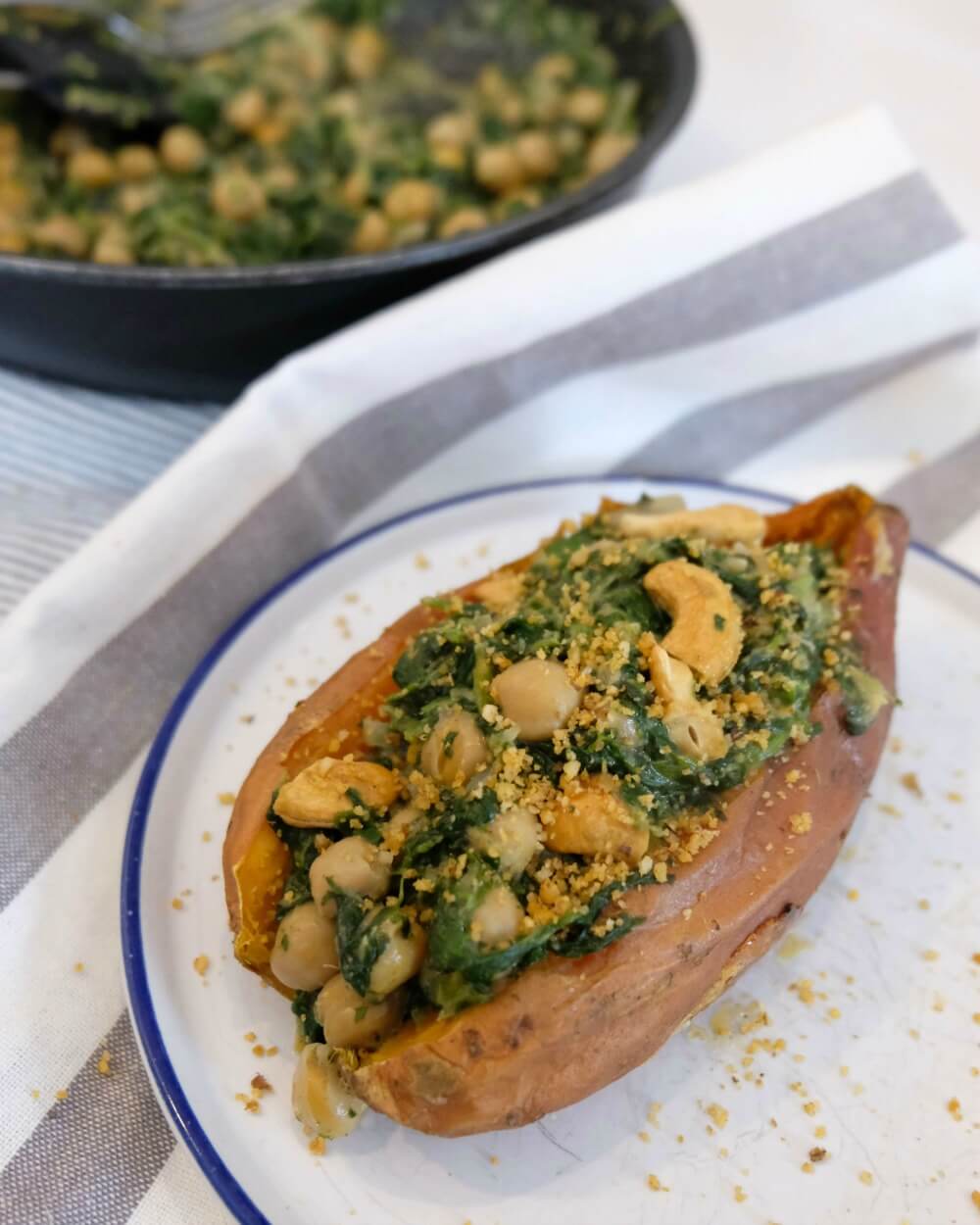 Roasted sweet potatoes with curried spinach and chickpeas
Comfort food alert! This recipe is all hearty nourishment and the best part is how fast and easy it is to make it. Packed with plant-based nutrients, it has all the flavour you soul needs to survive winter!
Serves 2 people
What you'll need
2 medium sweet potatoes
1 medium onion
1 tbsp grated fresh ginger
1 tablespoon olive oil (or any other neutral oil)
200g cooked chickpeas (fresh or canned)
250g frozen spinach
2 heaped tablespoons coconut milk (oat, nut or soy also ok)
2 tsp garam masala (or traditional curry powder)
½ tsp salt
How to make it
Roast the whole sweet potatoes in a pre-heated oven at 200°C for about 40-50 minutes until soft inside.
Meanwhile, heat a frying pan with the olive oil and fry the onion and garlic with a pinch of salt, until soft and juicy.
Add the spices, fry for half a minute.
Add the chickpeas and cook it for 3 minutes.
Add the spinach and let it defrost completely, cooking for about 10 minutes at medium/high heat.
Add the coconut milk, bring to a quick boil and set aside.
Cut the sweet potatoes in the middle with a knife and scrape out some of the filling.
Add the spinach filling to the sweet potatoes, adding some extra on the side if you want. Enjoy your delicious dinner!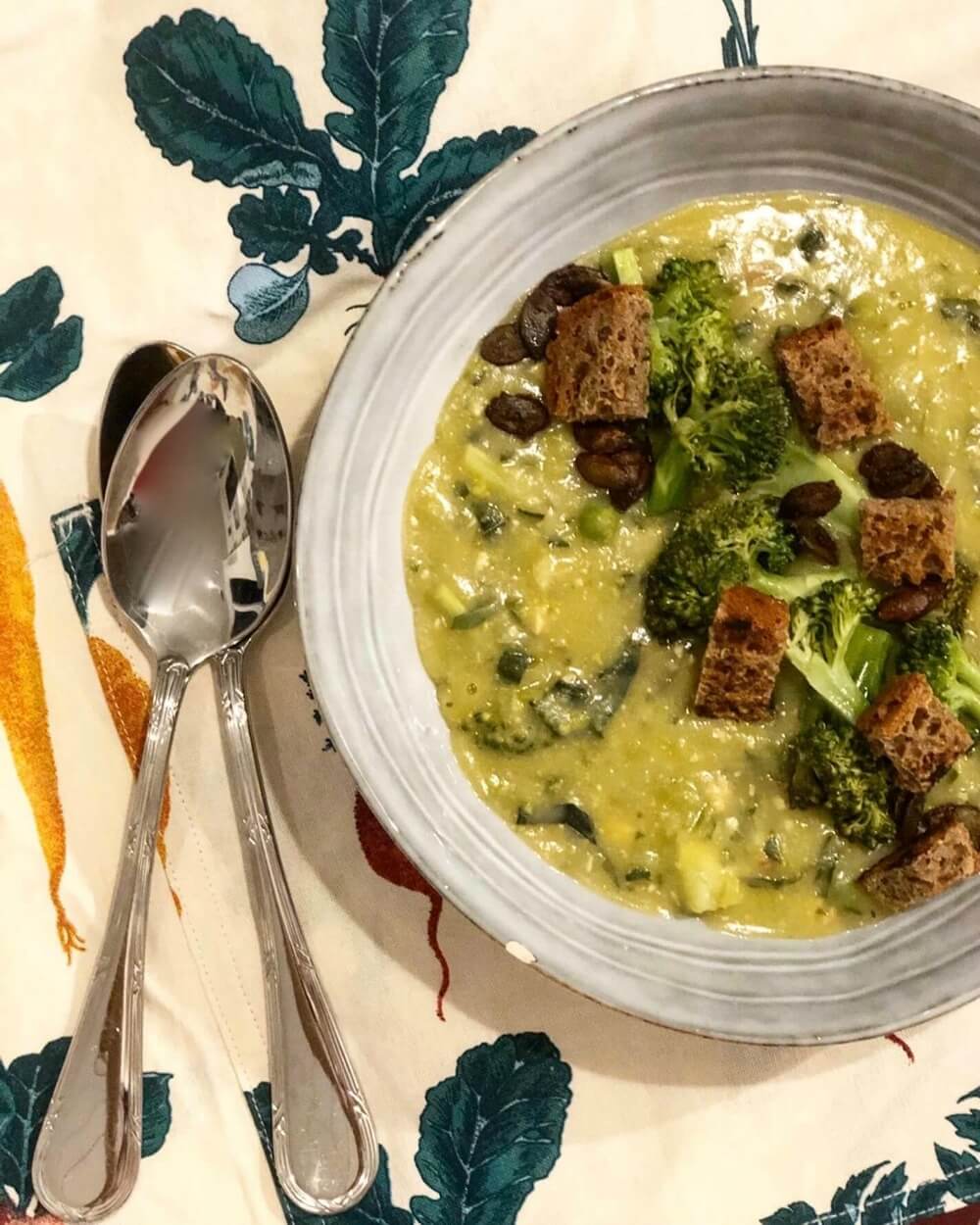 Very green split pea and broccoli soup
Cold, windy, rainy weather? I always complain about it but there is one thing I love about this weather: how cosy and joyful it is to have a tasty, warming soup when I get home after a long cold day. This is one of my favourite vegan winter recipes - I just love split pea soup! The grilled broccoli and toasted seeds add more texture, making the recipe even better and more filling. So delicious!!
Serves 3-4 people
What you'll need
1 medium broccoli, including the stalk
1½ cups dried split peas
1 handful fresh parsley, chopped
1 tsp fresh thyme
1 tsp fresh rosemary
4L water
200ml plant milk (optional)
1 tbsp apple cider vinegar
50g chopped smoked tofu (optional)
Salt and pepper, to taste
1-2 tablespoon olive oil
2-3 tbsp toasted pumpkin seeds
How to make it
If possible, soak the split green peas for 4 hours or overnight.
Chop the broccoli stalk and cut the head into small florets.
Heat a big pan with a drizzle of olive oil and fry the broccoli florets for 5 minutes with a pinch of salt.
Transfer to a bowl and set aside.
In the same pan, add the chopped stalk and the smoked tofu, fry for 5 more minutes, then add the water and the split peas and bring it to a boil.
Add the rest of the ingredients and cover the pan. Let it cook for 40-60 minutes at medium heat until the peas are completely cooked.
Once the peas are cooked you can blend the soup for a creamier soup or leave it chunky if you prefer.
Add salt to taste and serve with the broccoli florets and some toasted pumpkin seeds.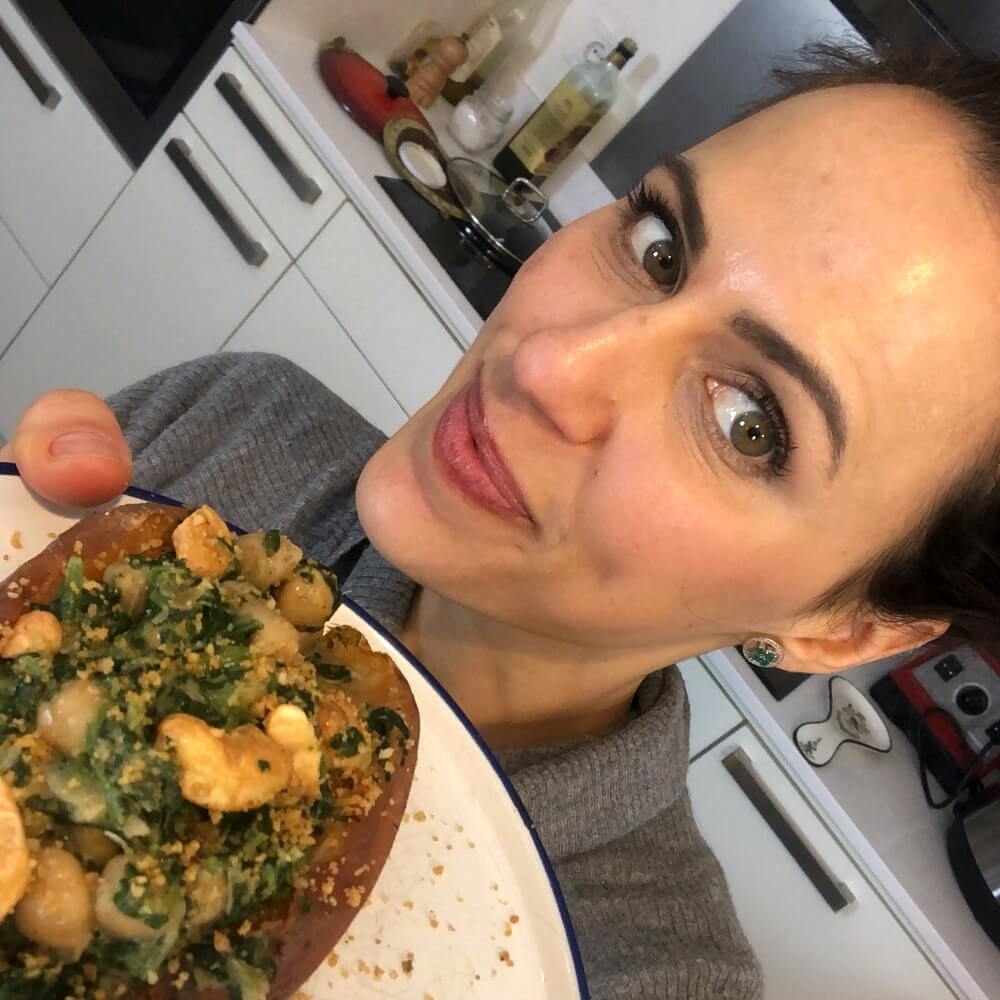 About the author
Marinola is a professional vegan chef who loves food and everything food-related. Her
website
and
Instagram
are all about sharing delicious plant-based recipes and inspiring people to fill their plates with colourful veggies for a happy energized life. Discover more of her delicious recipes at
www.marinola.com
.
Share this post