Listen to how it all began... 🎧
By Leo Alsved
Posted on 7th October 2019
A good few years ago, before
The Ski Week ever
existed, if you had zoomed into a little mountain town in Austria, you would have seen three friends clicking into their skis and setting off before sunrise everyday, skiing far and wide for the pure enjoyment of it all.
Among this merry band of adventurers, an intrepid few names welcomed the snowfall more than most. One of the boys in particular, by the name of Leo, looked forward to winter above all. And Leo has no idle mind, there was an idea ticking away in his head every winter, like a time bomb… What if we invited our friends to join in this adventure, but not just some of our friends, ALL our friends. Overlooking the valley he ran enough napkin numbers to start an avalanche, and, intrigued by the idea of what could be, he chose to roll the dice and bet on a few good friends. First came the need for a location, and so we designed the European Alpine Tour, a scout trip on wheels designed to shred, rate, and evaluate the very best mountains in the alps, all in search of a home for the project - a starting point. Fast forward one year and a big leap of faith later, The Ski Week launched it's first destination in Obertauern, Austria. Memories were made. Small town legends were formed. And the mountains and valleys of Austria began to light up with the sound of cow bells and the spirit of adventure. Before long, word of their adventures caught the wind, and like any good word, it spread among good people - but that was only the beginning…
The Ski Week is a series of boutique ski festivals, staged in handpicked mountain towns around the world. At it's core it's about friendship, in execution, it's a fly-in celebration of life, exploration, and skiing. Taking place amid jaw dropping mountain backdrops, home to spontaneous gatherings, dappled with intimate events, and headlined by huge outdoor happenings, it's a week-long journey made up of everything you thought was possible in the mountains - and some stuff you never dreamed of. As a family, we are adventurers, explorers, sailors, skiers, snowboarders, mountain guides, powder hound boys and, wilderness girls. Most of us have other roles in the 'real world' too, but out here it's who you choose t be that matters most. We are all walks of life from all corners of the globe, united by our love for the mountains and driven by a hunger for experience.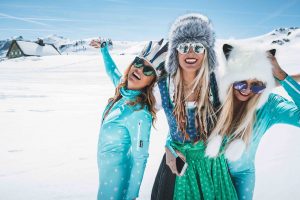 Our goal is to ski the world with our friends, that's why we do what we do, and that's why we don't stop until the job is done. Or until the fort is built, and the chairlifts are turning. It is by virtue of necessity that along the the way, as a team, we've also devised, dug, built, hitched, rigged and excavated some of the raddest structures, scenes and happenings imaginable in an alpine environment. You can imagine how such activities might create some strong bonds, and we invite you to partake in both the hardship and the glory. Flying in to any The Ski Week mountain, you can always guarantee a warm welcome from the new names and the familiar faces alike. Keep an eye out for the girl with the smile sweet as pie, who can ski circles around all the boys. Pay attention to the boy who radiates positivity, the good times will follow him wherever he goes. And express your support for the crews who are inclusive above all, and welcome the world with open arms. The Ski Week crew are each specialists in their own right, with insight to share and passion to light the way. These guys and girls are the keys to a few of the best adventures onsite, and always know a few local secrets to share when the time is right. Most importantly of all there are your fellow ski weekers responsible defining the experience everywhere you go.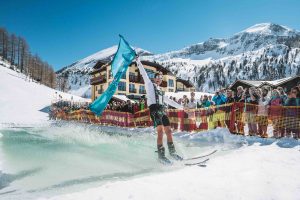 Key to creating the culture we embrace, is our approach toward one another and the world around us. Real magic happens when you bring adventurers together at the trailhead of a great journey. We have found the more conversations you start, favors you give, kindness you show, and warmth you express, so too the more doors you will unlock, and the more friends you will walk away with. So go ahead, be afraid of nothing, but be ready for anything. We like to operate on total respect for one another's path, and wishes, provided they are respectful to the local community. Respect the mountain, respect one another, respect yourself and you will find that spontaneity and ingenuity have a welcome home with us. Think of it like this, there is no consumer here. If you pay to be a part of the ski week adventure then you too own the experience, and the experience of your friends. The catch of course, is they own your experience too. How will you choose to act, knowing you define the experience for those around you? Will you hold the door open for merry adventurers with their hands full? Will you save an empty seat at your table for a guest you haven't met yet? Will you take an early night and commit to making breakfast for your whole crew before first chairlift in the morning? What you do with that mantel is up to you, some of the greatest shining moments have been when everybody pitches in to source, and help, and create as a crew. Trust me, I've seen girls hang fairy lights in times of dark, and boys serve beers in times of need, high up in the mountains, and all with my very own eyes.
Since the inception of The Ski Week in Austria we've made leaps and bounds in finding our voice, and carving a path for the globetrotting skiers and snowboarders we recognise as family. We consistently look back to Austria as an original source of inspiration, and it has fueled our expeditions across three continents to encompass the USA, Canada and Japan! The variation in environment country to country is staggering, whether you are donning lederhosen and eating milk chocolate in Austria, or taking ramen breaks between sessions of endless pow in Japan, whether you are embarking on a pioneers road trip across Canada's infamous powder highway, or redefining spring skiing the way it was back in the glory days in the USA. Variety is the spice of life, and country-to-country we are spoiled for choice. The truly amazing part, is that within every mountain town you will find a subset of people who design their lives around the same common pursuit skiing and snowboarding. Playing with gravity, feeling the rush of nature in your ears, and dancing with the mountain goes deep. If you do The Ski Week right you will leave with 50+ friend requests, invitations all over the world, warm hugs, cold beers and soft landings no matter which city you choose - that and a squad of friends that will pick you up, push you forward, and encourage you to explore the world over. They might even fly-in to see it happen themselves, but you can judge that for yourself.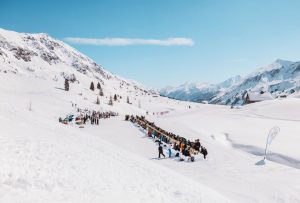 I could continue trying to explain, it but it's hopeless to the un-initiated. I only wish that when you reach that moment in your journey, when you look around at wide smiles, full hearts, exhausted athletes, perfect alpine backdrops, and all your new best friends in one place - that you take a little snapshot in your mind, and stay present just for the moment, to remember who you are, and why you are here. It's our turn to show you the path, but it's your turn to walk it.
Come, ski the world with us.
Listen
to the
story so far
in our very own podcast.
Share this post