By Cara Whiteman
Posted on 17th September 2019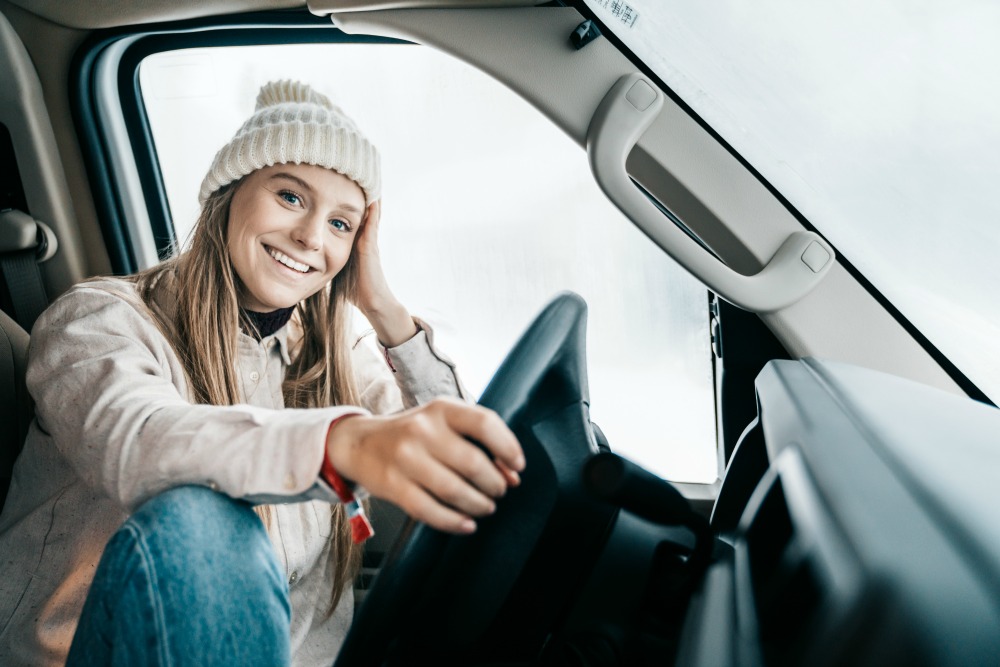 If you're done with soaring rent prices and are ready for some slow travel, then it's probably time to learn how to live the van life. We've put together this easy guide to living in the van of your dreams. From the handiest apps to showering on the road, we've got all the inspiration, budgeting tips and hacks you need to start your adventure on four wheels.
Want to get a taste of the #vanlife this winter? Check out our Canadian snow road trip, where you get to travel with 30 RVs to three different ski resorts in a week!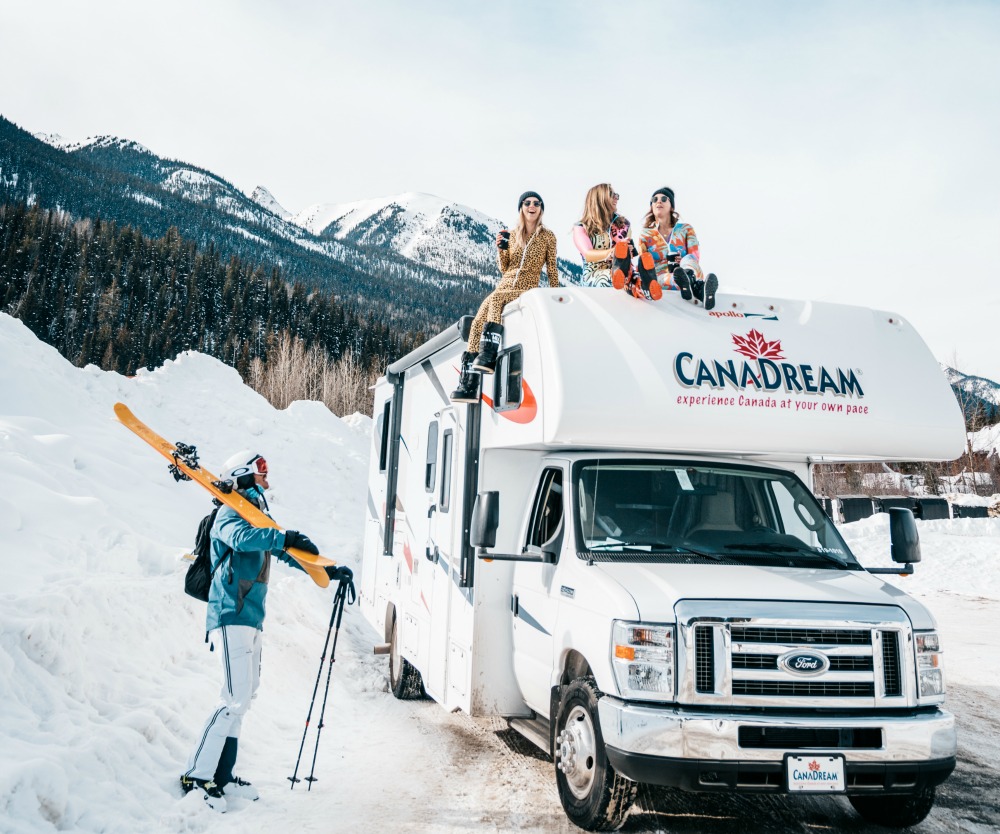 What is #vanlife?
Van life is waking up wherever you want. It means opening your front door straight onto a ski field in the morning or watching from your rooftop as the sun sets over a mountain you hiked that day. It means taking your home with you on any adventure - including your pets (if they're also the adventurous type). While people have lived in vans and motorhomes for decades, the concept of van life exploded on social media in recent years thanks to millennial nomads sharing inspo and tips with other aspiring adventurers. The term 'van life' was coined by former Ralph Lauren designer
Foster Huntington
when he packed up his New York apartment and set out on an epic adventure in 2011. He used the hashtag
#vanlife
(a play on Tupac's 'Thug Life' tattoo) on the stylish shots showcasing his new home on Instagram - and a whole movement was born.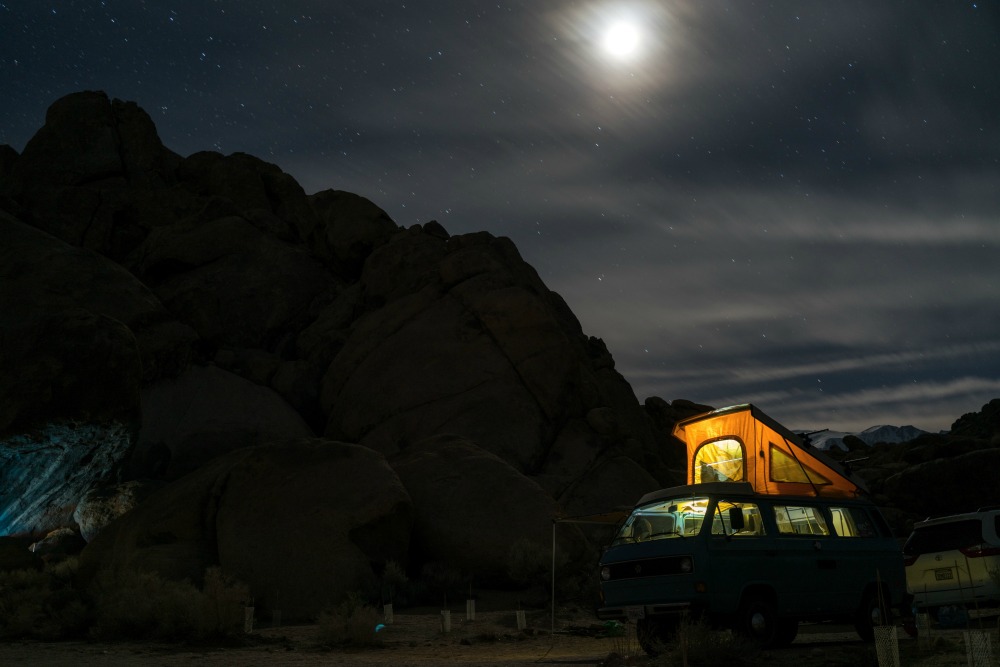 Van life inspiration
If you're looking for space-saving design tips and cute ideas for furnishing your van, then look no further than the world of van life on
Instagram
. There are loads of hashtags you can research through - such as
#vanlifedreams
,
#vanlifeideas
and
#vanlifestyle
- plus some great accounts that feature the best shots around, like
@vanlifediaries
and
@vanlifetheory
. While all these beautiful vans might make you think that you need a professionally designed vehicle before hitting the road, don't stress. There are also some great Insta accounts, like
@thehappylands
, that make you realise that you don't need everything to be photo perfect - just keep it simple and get on the road. Videos about van life on
YouTube
are also a great resource for advice and inspiration - both before setting out on your adventure and while on the road.
Eamon & Bec
have some great videos about converting a van to a camper and budgeting for your trip.
Kombi Life
is also a great channel, with videos about choosing the right vehicle and van life hacks that will help you survive on the road.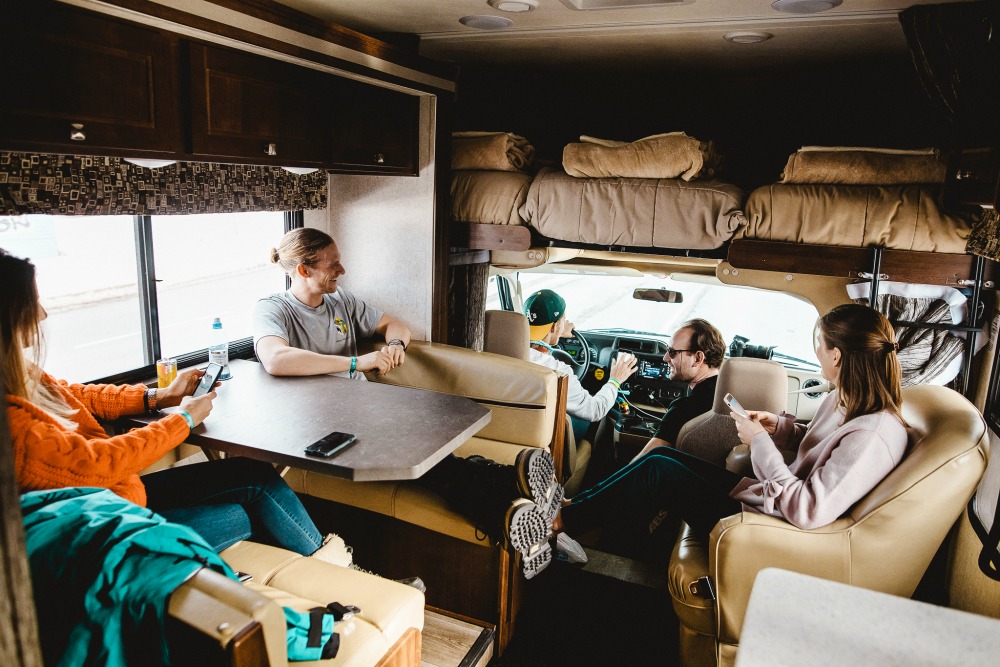 Van life costs and essentials
The first cost to think about is the van itself. Do you want to buy a normal van and convert it yourself? Do you want to buy one that's already converted? Or a purpose-built camper or RV that comes all fitted out with everything you need (like the amazing RVs we use for
The Ski Week Canadian road trip
). It's also important to look at all your options and consider not just the price of the vehicle itself but how much it will cost to get it on (and keep it on) the road - any conversion or adjustments, how much gas/petrol it uses, plus the cost of insurance and road tax. When choosing your van or planning your conversion, it's important to make sure that you have a comfortable bed set-up that you'll be ok to sleep on for weeks at a time. Obviously, the whole idea of van life is that this is your home and you don't want the extra cost of a hotel - or a chiropractor - if you have an uncomfortable sleeping set-up. You will also save money if your van has decent cooking equipment. Being able to make your own food will save you loads of money and, depending on where you want to travel, you may not always have access to shops or restaurants. Make sure you have some basic cooking equipment: a good knife, two decent pots and a cast-iron skillet/frying pan means you can cook pretty much anything on the road. Plus a small fridge or a cool box will help you save money as well. Once you have your van and are ready to go, budgeting for your daily expenses should be pretty straightforward. Food and drink plus gas/petrol will be your biggest expenses, but here are some others that you may not have thought about. If you're planning on using campsite facilities throughout your travels, either regularly or occasionally, it's important to budget for the cost of these stays as well. Carpenter and van life adventurer
Katie
recommends that you budget to use campsite at least once a week. "Camp for free as much as you can! We free camp five or six nights a week, then used a campsite to recharge, shower and do laundry." Then there are the everyday cost of having cell/mobile phones and internet on the road, plus money for adventure activities and touristy things as you travel around. Plus you should always have a little money ready for the surprise moments - from van breakdowns and accidents to buying mementoes along the way, you never know when you'll suddenly need some spare cash.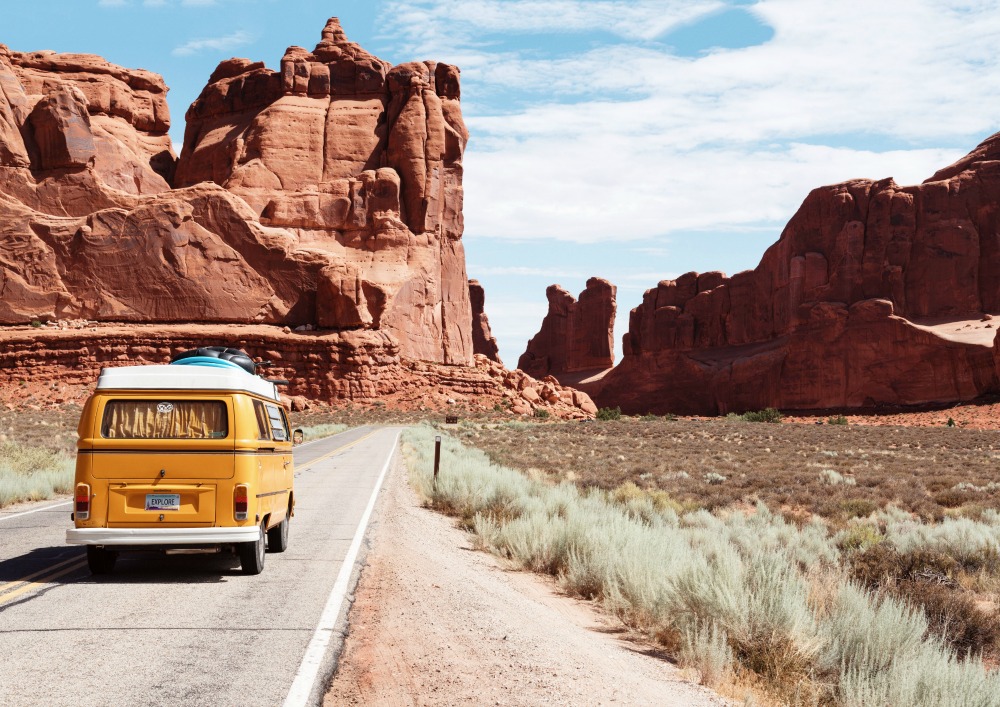 Van life tech and apps
You don't have to be totally tech-free just because you're on the road. Startup entrepreneur
Pete
recommends taking some good quality leisure/camping batteries on the road with you. "I work on the road, so being able to keep my laptop charged is essential. These batteries are also handy for charging phones and tablets when you're not driving, plus you can plug your fridge/cool box into them." Aside from Google Maps and even Google Translate (depending on where you're adventure take you), one of the most useful apps for van life is
park4night
. This handy community-focussed app let's other travellers share information and tips on where to find free parking spots, campsites, laundrettes and water fill-up points. It's a wonderful way to find advice from those in the know - and give back by sharing your own tips as well.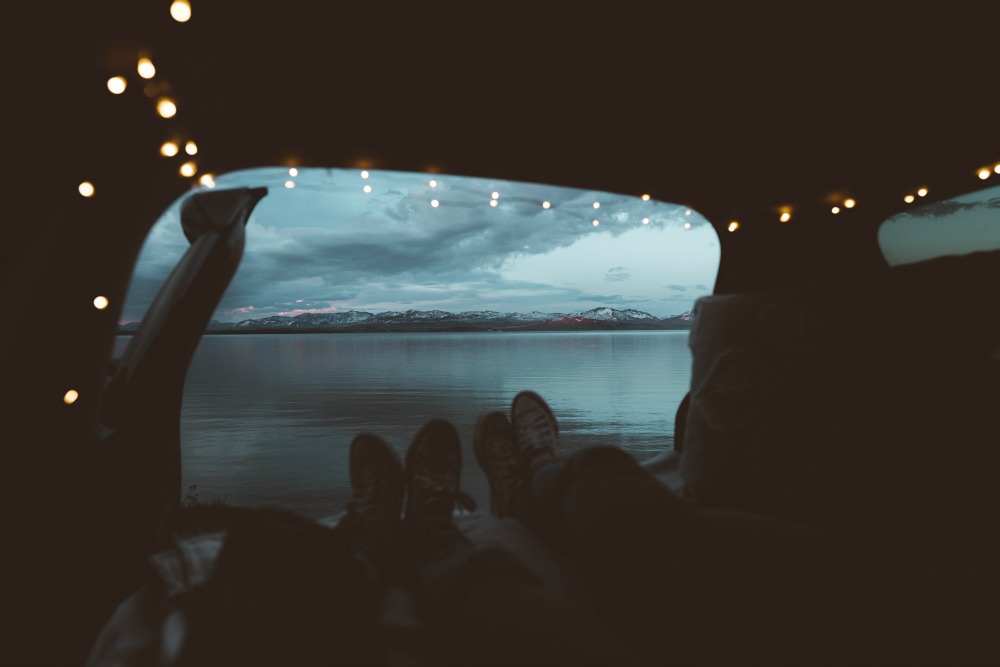 Van life hacks
There are loads of great videos and blogs online featuring a whole range of van life hacks. Here are some of the most popular ones to get you started.
Van shower and toilet
Unless you're travelling in an RV fitted with bathroom, you probably won't have a shower or toilet in your van - but there are plenty of options for showering every day. If your van has a sink with running water, you can always use this to wash inside your van. You can also use a pump and a shower head to extend this and have a shower outside your van. Other van lifers have mounted solar showers to the roof on their vans so they can shower with these outside too. You can usually find places to use the toilet along the way, including the great outdoors. However, for a variety of reasons, it won't always be possible to jump outside of your van to pee in the middle of the night. Make sure you keep a large bottle or a small bucket with a lid in the van for such evening emergencies.
Magnets and mounts
You're living inside a massive metal box, so make the most of this by securing everything with magnets. For mounting picture to the wall, to securing curtains, magnets can be used to hold everything in place, especially while you're on the go.
Packing cubes
Obviously, any storage space you have is at a minimum inside the van. Maximise this by using packing cubes, as these will condense everything you are putting in the space (like clothes) and stop loose items from rolling around while you're on the go (like to toiletries).
Hidden safe
When you're living out of a van, you'll always have some treasured possessions with you. Laptops, cameras and passports are all essential to your adventures - but also valuable to both you and potential thieves. Having a hidden safe, where you can easily lock your important goods away from anyone who would want to steal them.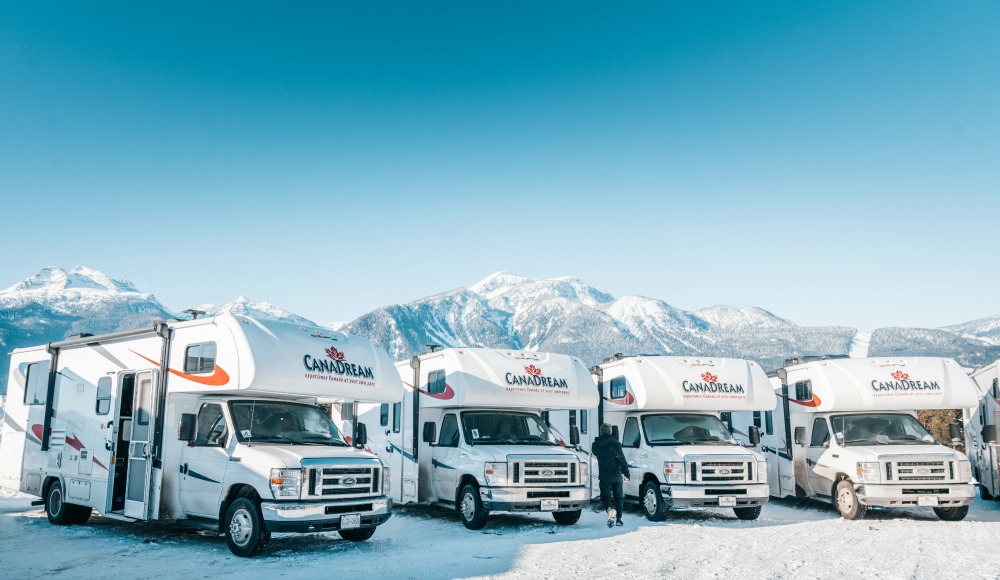 The ultimate van life experience
If you and your friends have ever wanted to get a taste for the #vanlife then The Ski Week has the perfect opportunity for you this winter. Imagine a whole week in your very own RV, venturing through the best ski fields that Canada has to offer, surrounded by a whole community of other adventurers? We're taking a whole convoy of vans to the Big White, Revelstoke and SilverStar resorts this February for the ultimate snowsports road trip. Our luxe RVs can spaciously sleep up to five people and are fitted with a full kitchen and bathroom, including your very own shower. They're also toasty and warm, even on the ski fields, with a powerful heater that can keep your RV at 25°C (77°F). Plus, if you know how to drive a car then you'll be fine to drive this type of vehicle too.
Sound like your dream van life adventure? Discover more about our RV ski adventure.
Share this post