Not everyone can ski, but EVERYONE can Après-ski
By Leo Alsved
Posted on 16th August 2019
It's true what they say, skiing is one of the most incredible things you can do with your body. But do your non-skier friends give a sh*t? The one thing cooler than exclusivity is
inclusivity
, and I'm willing to bet we've all got 10 good friends who would storm the mountains town by town if only they could get past the bunny slopes. It's a good job then, that as upstanding citizens of the ski world we are damn good at welcoming new faces into the ski community (aka bringing muggle friends into the light). Regardless of what you call it, The Ski Week is an amazing gateway into the ski world because not everyone can ski, but
everyone can après-ski - 
and oh boy do we have you covered for that. Here's 5 reasons to prove it...
1. LEARN HOW TO SKI IN THE MOST EPIC MOUNTAINS IN THE WORLD
The Ski Week is the perfect opportunity to learn how to ski. Not only do we arrange beginners classes for anyone who needs a nudge before stepping into the slope. But also imagine being able to say "I learnt how to ski in Revelstoke". There are no mountains better to learn how to ski than on The Ski Week. We have handpicked these mountains because of their beauty and their epicness. Come on! Let's be the person who says, "I learnt how to ski on a Canadian road trip".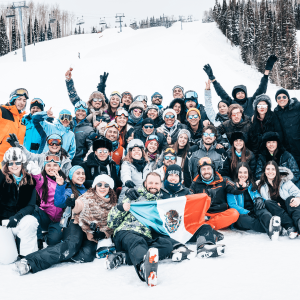 3. LONG TABLE LUNCHES ARE THE FUTURE
Lunch always tastes better when you've earned it. Consider a banquet set around a table high in the mountains, accessible only via hiking trails, fully sat with friendly faces on all sides and flanked by alpine vistas all around. We haven't even got to the food yet...
4. APRES-SKI PARTIES ARE THE FOUNDATION
Ah, the most spirited of mountain activities and the foundation of good friendship in the alpine. Kick off your boots in the afternoon and toast to victory with beer steins in hand, before you know it you'll be dancing on the tables through the sunset. Whether you were warming up to parallel turns or skiing La Vallée Blanche all day, this is where The Ski Week community comes together to celebrate the beauty of the moment.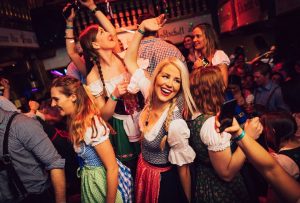 5. IT'S ALL ABOUT THE PEOPLE
The ski world can look like a daunting place filled with flashy displays of skill and showmanship. Those on the inside know it as an endlessly supportive community, relentless in their pursuit of wanderlust, and astonishingly effective in their intention to have as much fun as possible along the way. So what are you waiting for? Come join us!
Share this post