6 reasons why skiing and dating go hand-in-hand
By Leo Alsved
Posted on 8th January 2019
We're stoked to announce that we've teamed up with dating app, The Inner Circle, for Austria Week 2, March 23 - 30. At The Ski Week, we believe the best way to find your next life-partner is through skiing. Snowbrainer.
1. IT GETS THE HEART PUMPING
Skiing = exercise. Exercise = endorphins. Endorphins = romance. Simple equation really.
2. ALONE TIME
Being in the mountains gives you ample opportunity to take your first, second or third date away from the prying eyes of mates and other nosy people named Parker. Escape the crowds, grab your skis or snowshoes and set off on an adventure for two. This is where The Inner Circle comes in handy, it's "spots" feature shows you recommended (and secluded) venues in your area, Take advantage of that open alpine air, those beautiful landscapes, and the peace and quiet. You can chat for hours or completely ignore each other. Up to you.
3. LEND A HAND
When skiing, one can always come to the help of damsels or dames in distress. Offer to clean lenses on stormy days or feed snacks mid-run? Top up their sunscreen to avoid them getting ridiculous goggle tan lines. It's the little random acts of kindness that stick the most. Besides the snow ofc.
4. I FALL, YOU FALL
We think it's important to push yourself a little every day. What else makes a relationship stronger than breaking that comfort barrier together? Get out of the blue zone and spice it up in the red. And well, once you go black you never go back... When your date suggests you drop into a glacier steep enough to make your knees week, trust that he or she has your back and follow their lead. Skiing is all about those mini trust falls. If you break a bone, at least it's not your heart?
5. CLEAR AGENDA AND GOALS
Getting on the same page early is important. When skiing, you're essentially both out to get the same thing from your day - gnarly turns and burns. The pace at which you choose to achieve this is what truly bonds you. Do you ski as many laps as you can or take your time and set a leisurely pace? Do you ski steeps and hunt powder or carve up some groomers together? Either way, your gram game as a couple is going to start strong. Helmet hair asides.
6. GET IN SYNC
You'll be making each other coffee (how else are you going to catch that first chairlift?), chasing each other's tracks and throwing snow in each other's faces with full force before you know it. You've essentially skipped all the awkward stages and gone straight for the hardcore stuff.
So what are you waiting for, find a date for the slopes on The Inner Circle. After all, couples who ride lines together, stay together.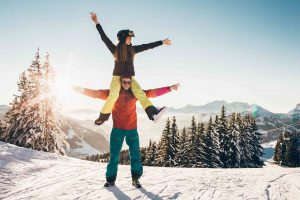 Share this post