All about the ambassador life
By Leo Alsved
Posted on 16th July 2018
If you're head over heels about the Day8 Brand, whether you love skiing with TSW or you can't get enough about TYW, now could be your time to shred, sail and shine. If you have what it takes to become an influencer of the Day8 and you're successful, we'll repay you in credits. These credits can be put towards trips, experiences, merch as well as many more awesome perks. Its a win-win in all ways. Your The Ski Week or The Yacht Week profile allows you to see your bookings and how many credits you have earned. There's also a top list of who has the most credits, because of a bit of healthy competition never hurt nobody 😉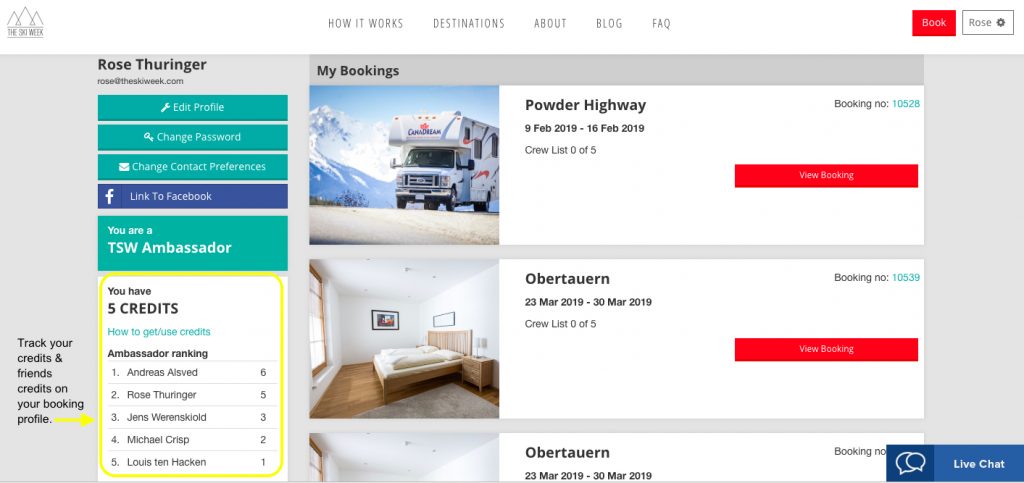 How do I earn credits?
Simply log in to www.theyachtweek.com/day8-ambassador to apply, make your first booking (no deposit necessary!) using code your personal Ambassador Code, and then send your guests a secure link to join your crew! Easy peasy. 1 yacht or apartment booking = 1 credit. 1 Credit = you are awesome! 2 or more credit = redeem your credits. Once your guests have paid the 5% deposit on the booking, a credit will be applied to your profile and you can spend as you wish! 💰
How can I spend my credits?
Free spots on TSW (subject to availability)
Canada QD RV (1 spot = 3 credits)
Austria QD flat (1 spot = 3 credits)
Aspen weekend QD flat (1 spot = 2 credits)
Experiences
QD Dublin Regatta (1 spot = 2 credits)
Skipper course (1 spot = 2 credtis)
Hosts course (1 spot = 2 credits)
Merchandise
TYW duffle swag bag (2 credits)
VHF Radio (2 credits)
During the summer we will also announce different campaign for you where you will have the opportunity to win different prices. Believe us, these are not things you wanna miss. Can't wait to have you aboard 😉 If you also have any question, we are available on
ambassador@day8.com
Share this post